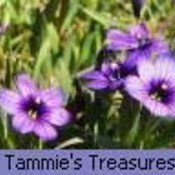 joined 06/30/09
active 10/24/20
About Me
This booth contains an assortment of goodies:
Handmade items(quilling, embroidery, crochet, painting)
Books
Videos
Clothes
Jewelry
Collectibles
Toys and misc. items.
There are always new items being added so please feel free to check back often.
I love to read and do hand crafts. I have a wonderful husband, 2...