For the first time in recent history, April showers really did bring May flowers to Seattle. It's been sunny for two days, so we at Bonanza HQ have become emboldened to rock our Birkenstocks sans socks and take our lunch breaks in the park.
And just as this warm weather has our outsides feeling warm and smiley, this year's seller survey results have had the same effect on our hearts. We got tons of helpful insights that have impacted our business goals for 2018. If you provided feedback on the survey, please accept a hearty "THANK U" from all of us at HQ.
The results of last year's results
Before we get into our goals for 2018, we thought a recap of last year's survey results might be helpful. Here's an update on our 2017 projects:
Increased advertising efforts
1. Advertising for your Webstore
Many sellers have stated that the biggest risk for opening a Webstore is driving traffic on your own. With that in mind, we created the Webstore Broadcaster. This tool automatically creates Google Shopping ads for your Webstore on your behalf. No more spending hours tweaking keywords and guesstimating ad bids. Simply choose how much you'd like to spend and leave the heavy lifting to us.
And because we believe in this tool and its ability to make your Webstore profitable, we are offering special signup incentives for new advertisers. Sign up now and take advantage of this promotion.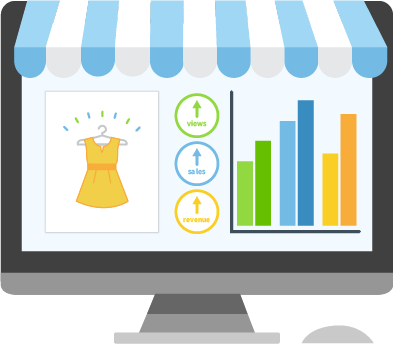 2. Seasonal specialty shops
Another new feature we added in 2017 was our seasonal specialty shop. These landing pages include eye-catching illustrated banners, as well as relevant search results from item categories. These pages serve as the landing pages for some of our ad campaigns, bringing more traffic to the site.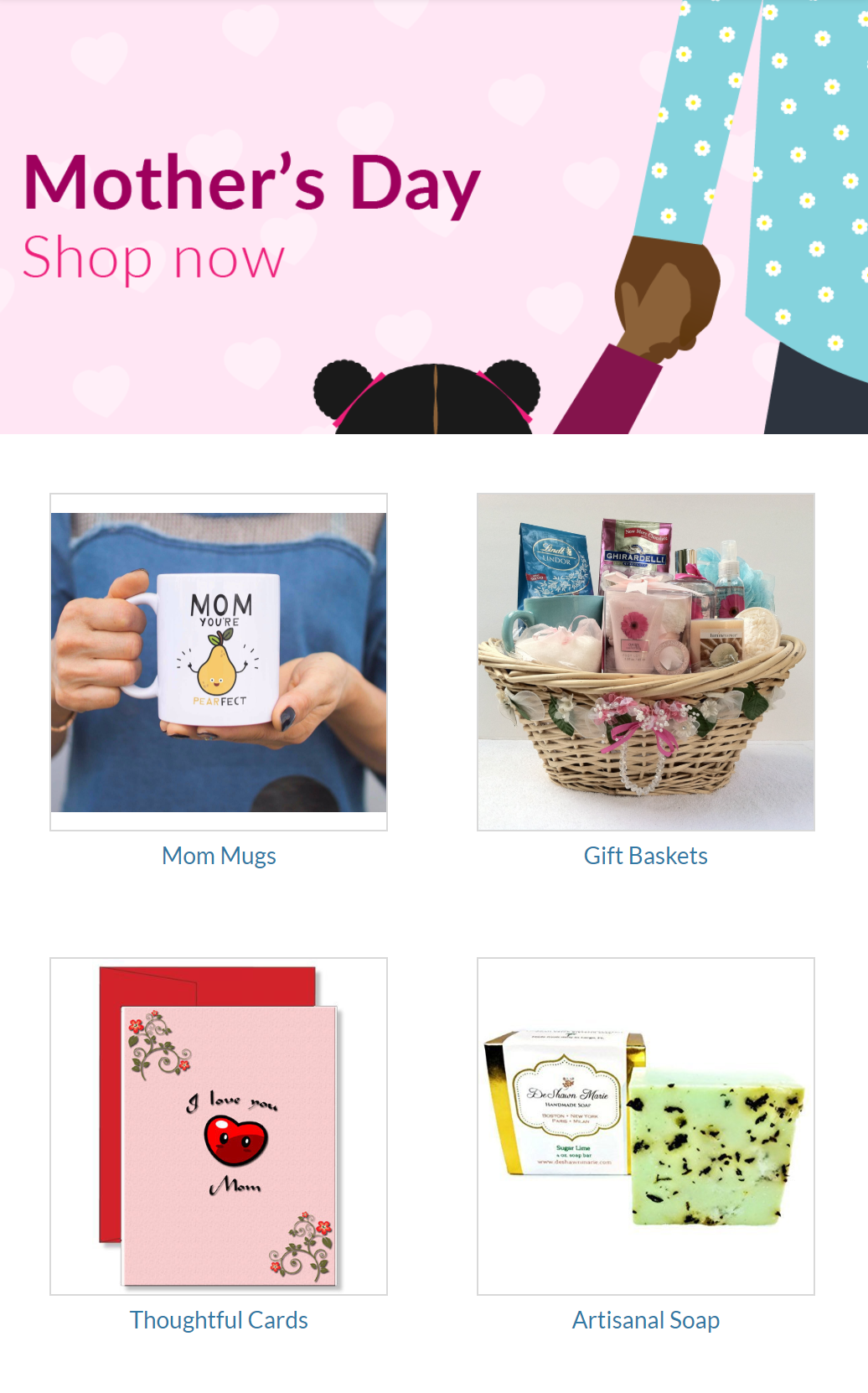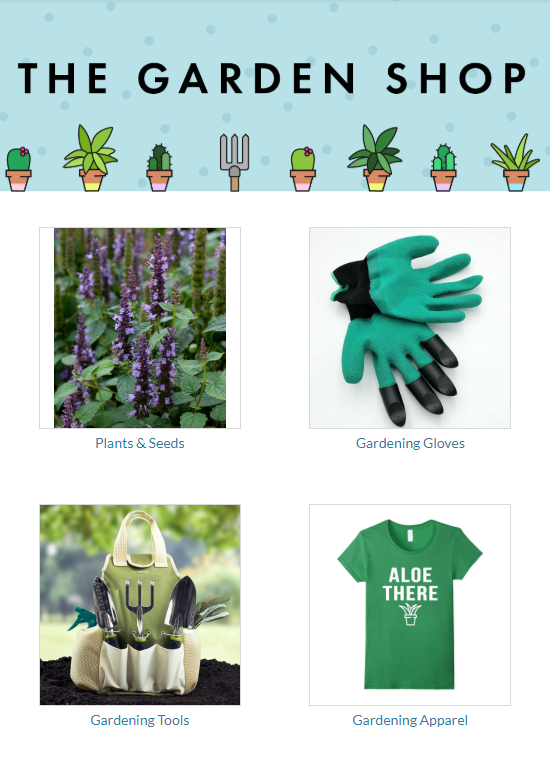 So far, we've promoted these shops for a variety of seasonal events, including Halloween, Valentine's Day, the Spring Equinox, and (currently!) Mother's Day.
Sneak peak alert: Our Father's Day shop is just around the corner
3. Improved customer marketing
In our last blog post, we mentioned that you can make commission-free sales by using our Customer Marketing Tool to send out coupons. This year, we also developed pre-made campaign templates to make creating a marketing campaign almost too easy. Curious to learn more? Check out this recap of the tool from our 9th Anniversary celebration.
Site improvements and updates
1. Item listing page redesign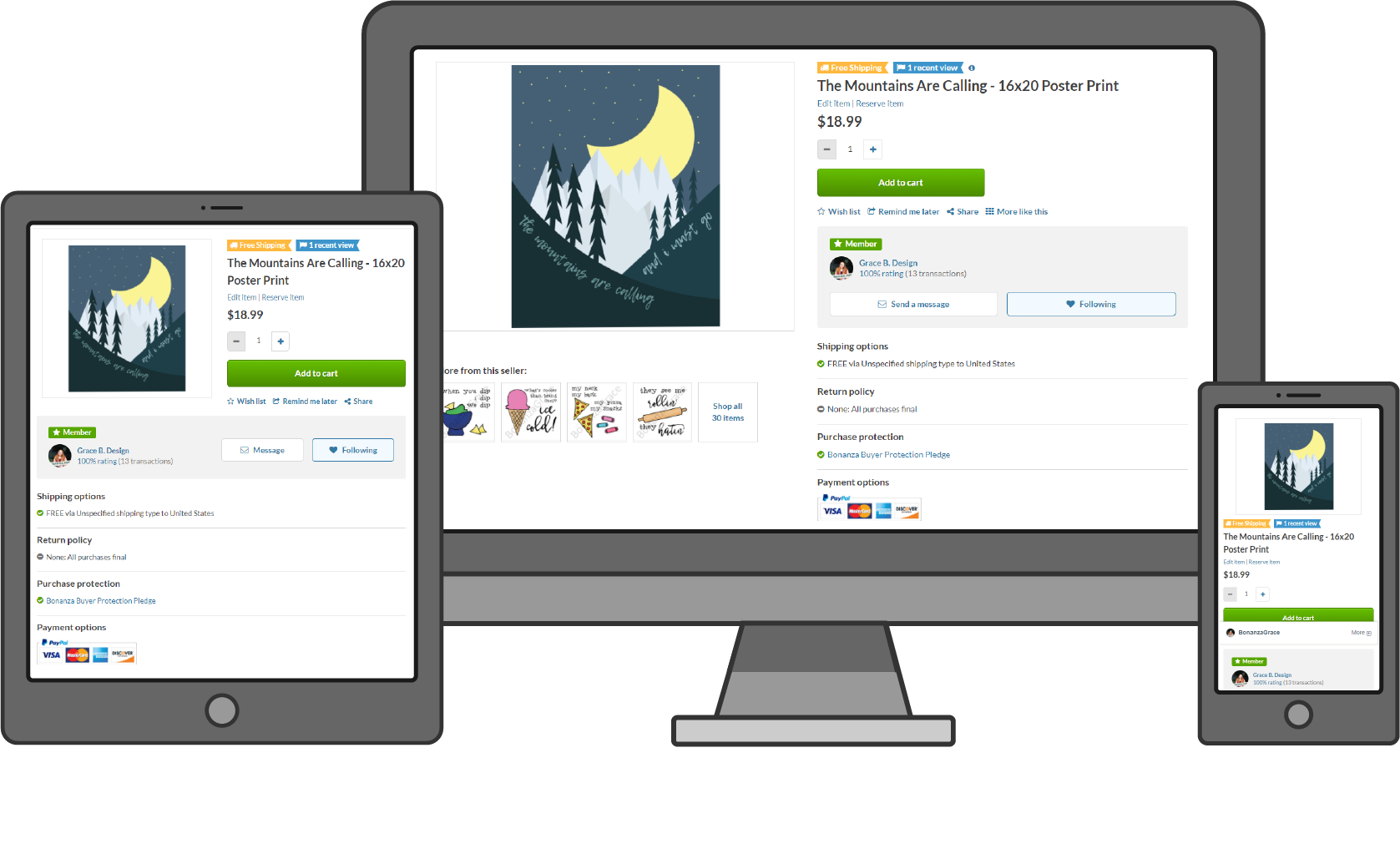 Our item listing page was redesigned early this year, making for a seamless and consistent shopping experience across multiple device types. Some of the major changes? We reworked the seller module, brought the listing details up higher on the page, and updated the overall look and feel of the page. This goal of this redesign was to bring the focus to you as individual sellers so that the identity of your online business can shine.
2. Updated mobile app
A shiny new mobile app was one of our top 3 requests last year! So in 2017, we updated both our iPhone and Android Bonanza Sellers app. This refresh included an updated process for listing items and improved app navigation, and is an ongoing project we'll be continuing to polish in the coming months.
This year's results
In the works
1. Diversifying our advertising channels (in progress)
This year, we've been ramping up our advertising ventures. This includes new and improved social media campaigns, item features on our Instagram, and some digital video ads and commercials! We're also dedicating time to improving our newsletter and dropped cart reminder emails.
Google Shopping is still a big part of our advertising plan as well, so we've been testing and optimizing those efforts on a weekly basis. Be on the lookout for an update about our Q2 efforts — for now, you can read all about our Q1 advertising here.
2. Improving the mobile buyer experience (in progress)
Bonanza has an incredible community of sellers who have posted millions of items on the site. While we work on driving more buyers to the site via the projects mentioned above, we're also improving the overall site experience for buyers. More than 60% of shoppers are using a mobile device or tablet, so we've been making major inroads to spruce up our mobile navigation, item search and filtering, and checkout flow. We're confident that these changes will make buying on Bonanza easier than ever before.
3. Updating our shipping process (in progress)
One of the most highly requested features from this year's survey was a shipping process update. We're currently working on clearer shipping options for both U.S. and international sellers, as well as possible third-party integrations to increase the availability of order tracking information. We're also proposing changes that will better your postage buying experience.
On the horizon
1. Updating "My booth" page. It's been several years since we updated our booth display. Our product team is eagerly anticipating a booth refresh in 2018.
2. Expanding our booth statistics and analytics. We're still in the research stage for this task, but we've been listening to your requests for more granular and actionable data. We'd like to give you more control over how you segment and digest your data and include more detailed metrics. Keep an eye out for updates on this task!
3. Updating the Batch Editor. This is one of our most robust tools, but many sellers find that it takes a while to learn, with certain key functions buried beneath other less frequented ones. We'll be researching ways to make this tool more intuitive and rolling out those changes sometime this year or early next.
You love us, you really love us
The results are in, and for the third year in a row, 78% of you would recommend Bonanza to others. What's more, our ranking in this category of the EcommerceBytes Sellers Choice Awards this year makes us the top recommended marketplace over the past 5 years combined! It makes our hearts swell to hear that Bonanza is a marketplace you'd put your word behind.
We also received top 3 placement for communication and customer service. Interested in reading more about the EcommerceBytes Sellers Choice results? Check 'em out here.
To those 22% who said they wouldn't recommend us — would you change your tune if chocolate was involved?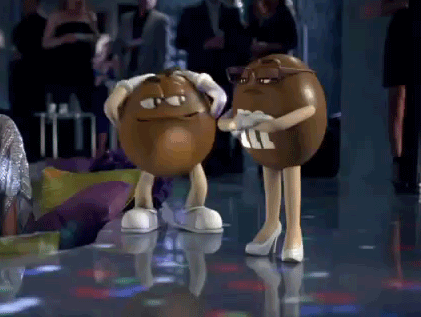 Okay...bribery (and sweet moves) aside, we'd like to change your minds. Please let us know how we can improve. You can ask a question, report a bug, or send us your ideas for a new feature via our Help Center. We'll also do our best to answer any questions in the blog comments (or direct you to the proper avenue for your feedback)!