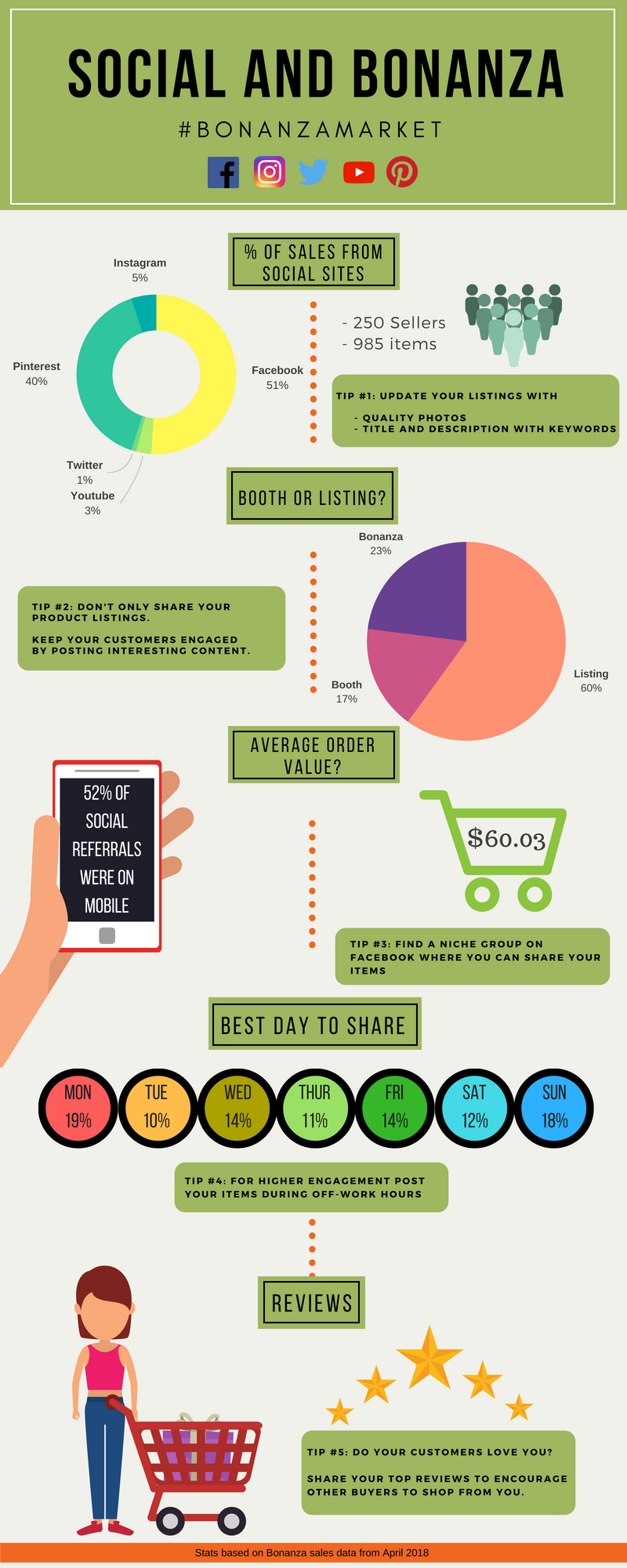 For more tips on perfecting your listings and sharing on social media, make sure to check out these resources on Bonanza:
The world of social media is fast-paced and constantly evolving. It is important to stay up to date on changes to social sites as well as best practices and tips. To do this we recommend following your favorite social content providers. Here are some of our favorites:

Don't forget, we're running an anniversary contest where you can rack up points for completing certain actions. These actions range from low impact (like visiting our Facebook page) to high impact (like signing up for an annual membership) and their point values scale accordingly. For example, you'll automatically get 5 points for being a Bonanza seller — go you! 
Our first place winner will receive a Deluxe Booth Prize Package, which consists of:
1 TurboTraffic Package
A Seller Spotlight
A booth consultation
A Custom Badge for profile Item(s) from your booth featured in a homepage HPL
An Item feature on Facebook / Twitter
Item feature on Instagram
Featured item in newsletter
A Bonanza T-shirt
A Bonanza Sticker variety pack
On top of that, 5 additional winners will receive:
1 TurboTraffic Package
Item feature on Instagram

Join the Cool Kids Club (trademark pending)
As a way to say thanks for using Bonanza, we are running our annual Membership sale promotion.
Save an additional 25% off annual Gold, Platinum, and Titan membership subscriptions, now through June 22nd.
Sign up now to save on membership-only features designed for professional sellers like you:
Purchasing an annual membership during our sale will save you up to $900 off the monthly subscription price. With no contracts required, what do you have to lose? Don't miss this opportunity for huge savings on a membership that will benefit your business all year long.
Attract up to 300% more shoppers with Turbo Traffic (Platinum, Titan)
Up to 100,000 listings, no restrictions on digital downloads (Titan)
More insight with advanced item stats (Gold, Platinum, Titan)
Personalized care and consultations with our merchant account managers (Titan)
More advertising channels with no additional commission (Titan)